For my first post I'd like to talk about an old chest of mine. I got it for Christmas one year when I was in High School.
It's an o.k. looking chest. I love that it's cedar lined, but I didn't love how it looked so much. I decided to put it in my son's room to help with toy storage for awhile.
While it was in there - I decided to make a quick and easy cosmetic change to it, so it would match the room decor a little more. I unscrewed the cushion from the lid and stapled some fabric to it and viola!
A quick and easy change. It only took about 3o mins or so and updated the look quite a bit.
Well about a year later we moved. In our new apartment my son's room is quite a bit smaller, so the chest didn't fit anymore. I didn't really know where to put it. My room was full of other furniture and I didn't really want it in the main living areas looking the way it did. So I decided a major overhaul was needed. With the help of my husband (well he did most of the work actually...), we stained & recovered it, put new hardware on, knocked off the legs and put on new ones. And here is the result:
I absolutely love how it turned out! And now I'm proud to display it in any room of my house.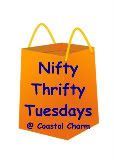 Tatertots and Jello